Hey Everyone! For all my fellow bloggers, welcome back to the Social Stack Up Blog Hop! We are in our 4th week, I hope everyone has made some new blog friends! Link up your blog and share the hop with your followers! For all my awesome followers, check out all of these other great blogs!!
If you are interested in co-hosting one week, shoot Michelle an email at:
michellespixiedust@gmail.com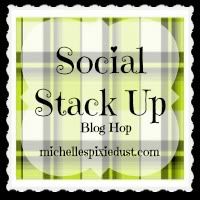 1. Please follow me and the amazing co-hosts via GFC, Facebook, Twitter, Pinterest, Instagram or other social network.


2. Grab a Social Stack Up button to display somewhere on your page.


3. Share this hop with your friends! The more people who know about the hop, the more friends we can all make.


Tweet
Host:
Co Hosts:
Returning for an encore due to technical difficulties {and because we like her}